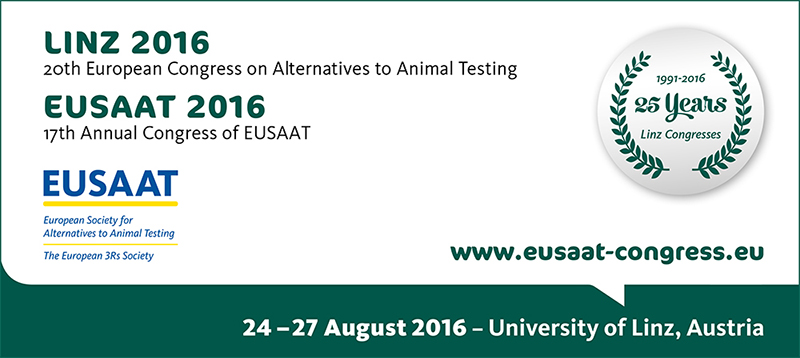 EUSAAT 2016 Young Scientist Travel Awards -
EUSAAT 2016 YSTA program
To promote the 3R principles of Russel & Burch EUSAAT is in 2016 again promoting the participation of young scientists from around the world in the EUSAAT 2016 Congress by providing financial travelling support to young scientists via the EUSAAT 2016 YSTA program. We are quite happy that several of our sponsors have agreed to provide funding for the YSTA program in 2016 again.
To get elected for the EUSAAT 2016 YSTA program, young scientists up to 35 years, e.g. graduate-, postgraduate- or PhD-students, must submit three documents until 20 June 2016:
provide a document proving that they are inscribed as students at an established institution.

Members of the Scientific Committee of the EUSAAT 2016 Congress will evaluate all applications for the EUSAAT 2016 YSTA  program according to three criteria,
(iii) ranking among the EUSAAT 2016 YSTA applications.
According to funding of the EUSAAT 2016 YSTA program by our sponsors successful applicants will receive travel support in-kind as waiving of the congress fee and 3-4 nights free accommodation in Linz*.
All abstracts submitted by EUSAAT 2016 YSTA applicants and accepted by the Scientific Committee, EUSAAT 2016 will hold a special "Young Scientists Session", where the best YSTA submissions will be presented as short oral presentations.
The best presentations of this session will receive an EUSAAT 2016 Diploma and a financial gratification.
Please click on the appropriate link:
For further questions please contact the congress office, Helmut Appl: congress2016@eusaat-congress.eu