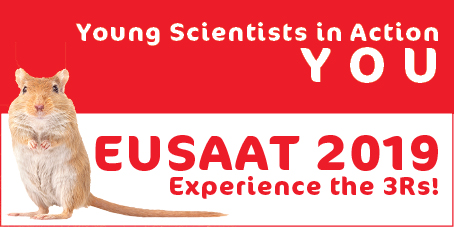 YOU - Young Scientists in Action
Events at the congress
The YOU EUSAAT 2019 events are aimed at young and early career scientists (up to 35 yrs.) that already work or plan to work in the field of the 3Rs. We want to encourage the dialogue of young scientists among themselves and with experienced mentors that have been working in the field for a long time to give the opportunity for establishing new professional networks. Hence, we want to provide a free and open atmosphere for the exchange of scientific ideas and career experiences alike and to simply have some fun!
Join the events - we want YOU!
Thursday 10 October 2019 11:30-13:00
Pre-registration meet-up for young scientists
This is a unique opportunity for especially first-time attendees, but also other young scientists to connect, ask questions and exchange experiences. Sign up for the Pre-Registration Meet-up or just step by to get to know other young scientists directly from the beginning, this will ameliorate your further congress experience and YOU will be directly integrated in the community.



► R

egister here for the Pre-Registration Meet-Up.
Friday 11 October 2019 20:00
Meet-the-Mentors with wine & cheese
Meet leading researchers within the 3R field in a relaxed and open atmosphere! There will be space for extensive research- and career-based discussions as well as wine and cheese (vegan option incl.).
Mentors:
Prof. Christa Thöne-Reineke (Refinement, Animal Welfare & Ethics)
Prof. Stefan Hippenstiel (Ex vivo Tissue Cultures, Disease Models, Lung)
Dr. Chantra Eskes (Toxicology, Swiss 3R Center)
Dr. Christopher Fassbender (Ecotoxicology)
Dr. Babara Birk (Implementation of alternative methods in industry)

Location:
Marias Weinbar
Hauptpl. 15 (central square)
AT-4020 Linz
Saturday 12 October 2019 11:40 -

22.1 'Young Scientists' session - I
Session keynote lecture on career paths
Similarity of a career in the field of 3Rs and a Trans-Alpine Crossing
Barbara Birk
, DE-Ludwigshafen
Have you ever met a person who:

…has already worked on all 3Rs,
…has experiences with in vivo (small vs. large animals) and in vitro methods,
…has a background in kinetics and toxico-/pharmacodynamics,
…has worked as researcher and regulatory scientist,
…and got insights into small and big companies?
No matter was you answer is, join the keynote lecture given by Dr. Barbara Birk and get inspired by a colorful career paths and the different opportunities that you have in your future in the field of the 3Rs and alternative methods.

Direct link to the session
---
For more information please contact the congress office!
Helmut Appl
mail: congress2019@eusaat-congress.eu